1. STRUCTURE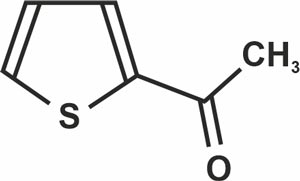 2. PRODUCT NAME & DETAILS
Product Name
2-Acetylthiophene
Product Code
000420
CAS No
88-15-3
HS Code
2930.90.99
Molecular Formula
C6H6OS
Molecular Wt.
126.18
3. Regulatory Information

Chemical name

Common names and synonyms

CAS number

EC number

2-Acetylthiophene

Methyl 2-thienyl ketone

88-15-3

201-804-6

European Inventory of Existing Commercial Chemical Substances (EINECS)

Listed

EC Inventory
Listed

United States Toxic Substances Control Act (TSCA) Inventory

Listed

China Catalog of Hazardous chemicals 2015

Not Listed

Chinese Chemical Inventory of Existing Chemical Substances (China IECSC)

Listed

Korea Existing Chemicals List (KECL)

Not Listed

Canadian Domestic Substance List (DSL)

Not Listed

Canadian Non-Domestic Substance List (NDSL)

Listed

Japanese Existing and New Chemical Substances Inventory(ENCS)

Not Listed

4. SPECIFICATION

Physical Appearance

Colourless To Pale Yellow Liquid

Moisture Content (KF)

NMT 0.50%

Miscibility

Miscible With Methanol

Density

1.155 to 1.165 at 20°C

Purity (GC)

NLT 98.0%

5. APPLICATION

- It is used as raw material to manufacture industrial organic chemicals.
- It can be used as a food additive. It is also used as an intermediate to produce drugs, such as Tiamonium Iodide, Suprofan, Stepronin, Tenonitrozole, Namirotene, etc.
- 2-Acetylthiophene is used in the synthesis of organoboranes as well as chalcone derivatives as anti-inflammatories.

6. HAZARD CLASSIFICATION
Hazardous substance. (UN No. 2810)





Acute Toxic

7. CAPACITY

50 MT per year.

8. STORAGE CONDITION

Store in closed container at ambient temperature. Avoid direct sunlight.

9. PACKING DEATILS

175 kg in narrow mouth steel drums.

10. SHELF LIFE

6 months.

Disclaimer
Typical properties should not be considered as specification.
Product covered by valid patents are not offered or supplied for commercial use. The Patent position should be verified by the customer.
Products will not be supplied to countries where they could be in conflict with existing patents.
Products currently covered by valid US patents are offered for R&D use in accordance with 35 USC 271 (e) (I) Above information is given in good faith and without warrenty.

Download PDF
The above information is given in good faith and is without warranty
Cas No: 88-15-3 | Molecular Formula: C6H6OS