Homophthalic Acid (Stellar-2001)
1. STRUCTURE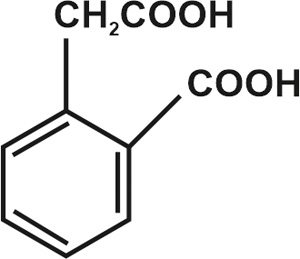 2. PRODUCT NAME & DETAILS
Product Name
Homophthalic Acid (Stellar-2001)
Product Code
004808
CAS No
89-51-0
HS Code
2917.39.90
Molecular Formula
C9H8O4
Molecular Wt.
180.16
Synonyms
2-(Carboxymethyl)benzoic acid, 2-Carboxyphenylacetic acid
3. Regulatory Information

Chemical name

Common names and synonyms

CAS number

EC number

Homothalic Acid

(2-carboxyphenyl)acetic acid

89-51-0

201-913-9

European Inventory of Existing Commercial Chemical Substances (EINECS)

Listed

EC Inventory

Listed

United States Toxic Substances Control Act (TSCA) Inventory

Listed

China Catalog of Hazardous chemicals 2015

Not Listed

Chinese Chemical Inventory of Existing Chemical Substances (China IECSC)

Not Listed

Korea Existing Chemicals List (KECL)

Not Listed

Canadian Domestic Substance List (DSL)

Not Listed

Canadian Non-Domestic Substance List (NDSL)

Listed

Japanese Existing and New Chemical Substances Inventory (ENCS)

Listed

3. SPECIFICATION

Physical Appearance

Off White To Pale Yellow Powder

Melting Point

178 - 182°C

Moisture Content (KF)

NMT 0.5%

Solubility (5% W/v In Methanol)

Clear, Colourless To Very Faint Yellow Solution

Chlorides %

NMT 0.2%

Assay (GLC)

NLT 99.0%

Assay (by Titration Acidimetry)

NLT 99-101%

4. APPLICATION
Used as general industrial fine chemical.
Used in electronics industries.
Used to synthesize heterocyclic compounds.

5. HAZARD CLASSIFICATION

Non-hazardous substance.




Irritant

6. CAPACITY
10 MT per year.

7. STORAGE CONDITION

Store in closed container at ambient temperature. Avoid direct sun light.

8. PACKING DETAILS

15 Kg corrugated box with PE liner Or 25 kg in HDPE drum with PE liners.

9. SHELF LIFE

2 years.

Disclaimer
Typical properties should not be considered as specification.
Product covered by valid patents are not offered or supplied for commercial use. The Patent position should be verified by the customer.
Products will not be supplied to countries where they could be in conflict with existing patents.
Products currently covered by valid US patents are offered for R&D use in accordance with 35 USC 271 (e) (I) Above information is given in good faith and without warrenty.

Download PDF
The above information is given in good faith and is without warranty
Cas No: 89-51-0 | Molecular Formula: C9H8O4